Please join us for the Grand Opening of the New Fork Park Lander Trail-New Fork River Crossing Historical Park
Saturday, June 21, 2014
To help us plan for these events, please RSVP and let us know how many are planning to attend and what events. Blocks of rooms have been reserved for this weekend at the Hampton and Baymont Inns in Pinedale. For more information and to RSVP, please contact Clint Gilchrist, President, Sublette County Historic Preservation Board, 307-367-6763, clint@sublette.com, PO Box 662, Pinedale, WY 82941
9AM: Morning Driving Tour Of the southern end of the Green River Drift from Hennick Draw to the New Fork Cattle Bridge (near New Fork Park).
9AM: Morning self & guided Walking Tours
Of New Fork Park (1 mile loop trail)
Noon: Lunch and Social at New Fork Park
1:00PM Grand Opening of New Fork Park.
Ribbon cutting, recognition of partners, history of the
emigrants and the park.
Afternoon self and guided Walk
All events are Free and open to the public.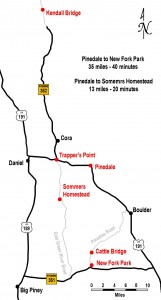 The 100-acre New Fork Park is located where tens of thousands of emigrants using the Lander Wagon Road (commonly known as the Lander Trail) crossed the New Fork River in the 1860s. This site is permanently preserved and made accessible to the public through cooperation of twenty-one Federal, State, County, non-profit, private, and corporate organizations. Thanks to unique agreements with the U.S. Bureau of Land Management (BLM), purchase of the property was funded by SWEPI LP (Shell), Ultra Resources (Ultra), and PacifiCorp (Rocky Mountain Power) to mitigate impact of development on the setting of the Lander Trail through the Pinedale Anticline natural gas field. The site provides a rare opportunity for the public to experience the setting of an emigrant river crossing and camp site.
Click to view New Fork Park brochure
New Fork Park Volunteers/Donors – 2013
Dawn Ballou
Rob Binning, Sublette County Road & Bridge
Randy Brown
Sharon Brown, National Park Service
Steve Burns, National Park Service
Casey Calhoun, Sublette County Road & Bridge
Ken Cannon, USU Archaeological Services
Molly Cannon, USU Archaeological Services
Sam Drucker
Duke Early, Sublette County Road & Bridge
Mike Egle
Kimberly Finch, National Park Service
Matt Gaffney, Sublette County
Clint Gilchrist
Don Hartley
Joe Kautza
Beth King
Correen Kolisko, National Park Service
Lee Kreutzer
Aaron Mahr, National Park Service
Doug Mika, Sublette County Road & Bridge
Vod Orr, Sublette County Road & Bridge
Billy Pape, Sublette County Road & Bridge
Butch Penton, Sublette County Road & Bridge
Kent Profit,  KP Trucking
Tom Rea, OCTA
Ron Smith
Mark Steele, Sublette County Road & Bridge
Dave Vlcek
Austin Wright, Sublette County Road & Bridge
Judson Finley, Assistant Professor, Anthropology-Archaeology
Utah State University and his USU students
National Park Service
Sublette County Road & Bridge
Wyoming Cultural Trust Fund