Thank you to all of the volunteers at the New Fork Park Work days, April 18-19, 2014.  The work days were very productive.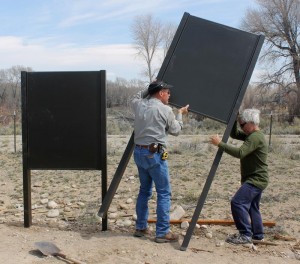 A big thank you to Geoff & Jackie Sell, Bob Beiermann, Barry Fisler, Sam Drucker, Bill Wadsworthand future son-in-law Shane for all their help. Thank you to Bob Beiermann for the use of his skidsteer, post-hole digger, 4 wheeler and hand packer; Bill Wadsworth and Geoff Sell for chainsaw work; Jackie Sell for wheel barrow, packer bar, hand tools and invaluable IPhone level for trail work; Clint Gilchrist for tractor and 4-wheeler equipment and small packer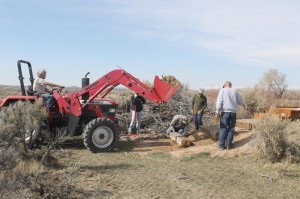 rental.  Sam Drucker for log bench work and harvesting the ticks. Also, special thanks to Pinedale Rental and Josh Criddle for the very generous donation of the use of the big roller packer and trailer for the weekend efforts.
Everyone put in two very long days and we got a lot done:
Dug out the ADA trail, did fill work, raking and packing about 600 feet of ADA trail
Realigned the trail entry approach from the parking lot through the barb wire fence at start of ADA trail
Roller packed the two ADA parking spots in the parking lot and ADA sidewalk, packed half of the parking lot and the entry road, and prep work on the large interpretive sign pad at the parking lot entry
Assembled four sign frames
Drilled 8 sign post holes and installed frames for the 3 upright entry signs and the overlook sign
Packed and added more rock to approaches to three trail footbridges
Added gravel to several more sections of trail
Grubbed sagebrush and cleared a sign pad for the swale interpretive sign
Built railroad tie steps to the steep approach to the canal footbridge
Cut up deadfall log sections and dragged them up to a dry staging area so they are up out of the flood zone and can be worked on later to build rustic seating for around the park trails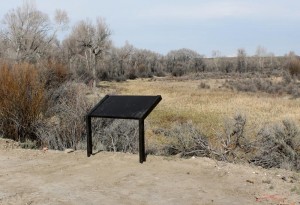 There is still a lot more to do and we'll be scheduling more work days out there to get ready for the big June 21st Grand Opening. The Wyoming Game & Fish will be delivering the rock crush for the ADA trail on April 28th and we'll schedule a workday to finish the ADA trail for hopefully the second weekend in May.