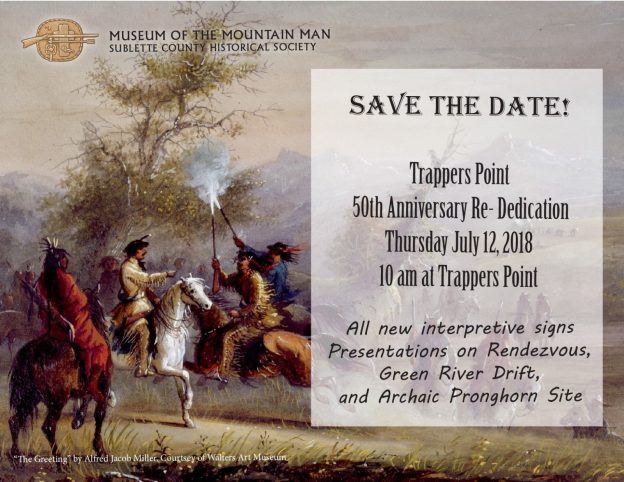 Trappers Point 50th Anniversary Re-Dedication
at Trappers Point
All new interpretive signs will be unveiled and there will be presentations on the Green River Rendezvous, the Green River Drift cattle trail and the Archaic Pronghorn Site.
There will be a bus leaving the museum at 9:30 am and returning at 12:30 if you would prefer a ride instead of bringing your own vehicle. Please sign up through Sublette BOCES to ensure a seat (look at bottom right of
this page to register
).
Directions:
Drive 5 miles West of Pinedale on US Hwy 191 to the Cora Junction. Turn South on East Green River Rd. In 200 yards turn right at the Trappers Point Sign. It is a 1/4 of a mile walk up to the top of the hill.
Background:
This project restored and reinvented the Trappers Point Overlook historic site monument and signs. The 10-acre site is owned and managed by the Sublette County Historical Society. It was dedicated in 1968 and is approaching its 50th anniversary. Trappers Point started in 1968 as a location to overlook a newly established National Landmark, the Upper Green River Rendezvous Grounds where six mountain man rendezvous were held from 1833-1840. Fifty years later the location has become a great place to overlook two other National Register of Historic Places sites: the Green River Drift and Trappers Point Archaeology.  All three sites are of national significance.  After 50 years, the overlook was showing signs of wear.  It needed to be modernized while still respecting its own heritage and adding interpretation of the newly designated historic resources.