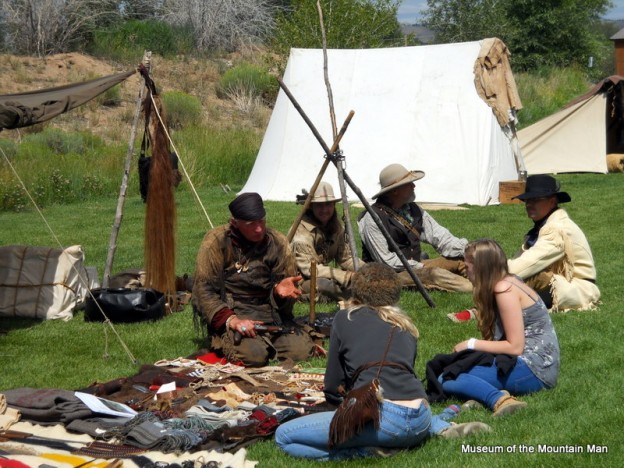 Always the second full weekend in July!
2023 Rendezvous July 6th – 9th, 2023 – Schedule to be determined, but similar to 2022 schedule
2022 Rendezvous Schedule (updated 6/21/2022)
Please check back here for updates to the 2023 Rendezvous Schedule or follow us on Facebook for latest news and updates on programs.
Livestream: All Journal/Forum sessions are livestreamed on our Youtube channel and recorded for later viewing.  Please visit to see previous programs:
https://www.youtube.com/museumofthemountainman
Four full days of events at the Museum of the Mountain Man featuring:
7th Annual Western Art & Wine Auction, Thursday, July 6th, 2023, 6:30pm. Proceeds benefit educational programs at the Museum.
Michael "Bad Hand", Native American Historian and Ethnologist, Plains Indian Encampment. His lectures are FREE to the public and give an overview of life of the Plains Indians in the 1800's.
Lapita & Dan Frewin, Hands on Children's Programs with morning and afternoon sessions, free to all kids.
The American Mountain Men Trapper's camp, north of the Museum at the amphitheater. Live lectures and demonstrations throughout Rendezvous weekend will include firearms, sign language, beaver trapping, clothes, tools, fire making, horse tack, packing, and Saturday night stories & songs.
Rocky Mountain Fur Trade Journal & Forum, The annual Journal is introduced with lectures by authors and discussion panels. Friday evening will be a special awards reception and journal signing (6:30pm, just before Mountain Man Movie Night). Books will be available for purchase.
Movie Night: Subject to be determined, July 7, 2023 at 7pm followed with panel discussion by historian quoted in the documentary. And topped off with free pizza and beer.
Phone 1-877-686-6266 or 307-367- 4101 for more information.
All programs are free thanks to our generous sponsors: Sublette County Museum Board, Sublette BOCES, Rocky Mountain Power, Pure West Energy, Jonah Energy, Rex & Heather Stevens, Fairan Barnett & Keith Cady