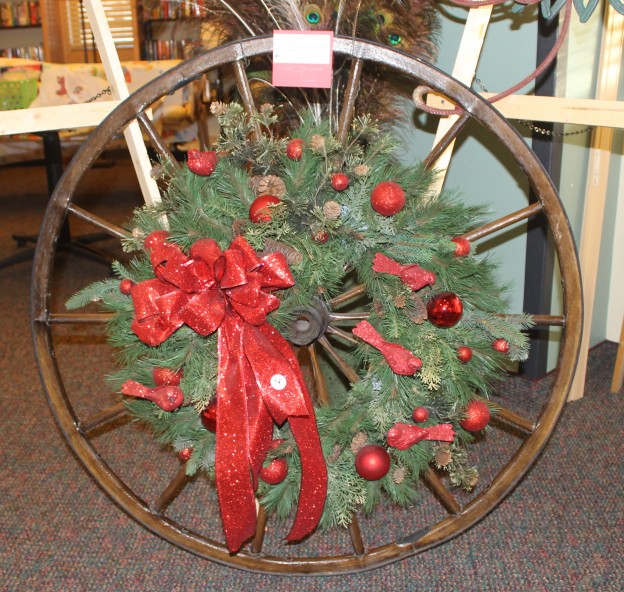 The 2021 Wreath & Chocolate Auction will be held LIVE
December 3, 2021 at the Pinedale Library
6:00 to 7:00pm – Special Guest Performance by VOICES 8
6:30 pm – Dinner
7:00 pm – LIVE Auction
Please come early to enjoy VOICES 8
Wreaths will be sold via LIVE auction and bidding only.
Chocolates and other items sold via companion online SILENT auction
at one.bidpal.net/mmmwreath2021
All silent auction items will be on display at the LIVE event and pictured online, but bidding available online only.
Sign up now to be notified via text when online SILENT auction bidding begins.
SILENT bidding is best via cell phone.  Help with SILENT bidding available at the LIVE event.
———————————————————————————————————————————
Each year individuals, organizations and businesses create unique wreaths, swags and chocolate delights and donate them to the Museum for the annual Wreath & Chocolate Auction.  This holiday event, held annually on the first Friday evening of December, is the main fundraiser for the Sublette County Historical Society and the Museum of the Mountain Man.  The funds raised help support programs and projects for the following year.  The event includes a live auction for wreaths and  a silent auction  featuring chocolate and gift baskets.   Jay Fear, prior SCHS Board President, serves as the Auctioneer.
The food is generously sponsored by First Bank.   Started in 1993, this annual event has become a highlight of the holiday season in Sublette County. Click here to look back at the first 25 years of Wreath Auctions!
One of the special wreaths in the auction is the Gayle McMurry Kinnison memorial wreath. Shell Oil Company started a tradition of buying the wreath and then donating it back so it could be re-auctioned for the cause. Today, a condition of buying this special wreath is that whoever buys it must bring it back again the next year, and in perpetuity, freshened up with new greenery and decorations, to be re-auctioned to benefit the museum. Gayle Kinnison was a wonderful supporter of the Museum and its programs, and this wreath is a tribute in commemoration of her kind heart. She passed away in 2006 and is dearly missed by our community.
Anyone who is interested in participating in the wreath auction is invited to contact the museum at 307-367-4101 or e-mail the museum at info@mmmuseum.com.