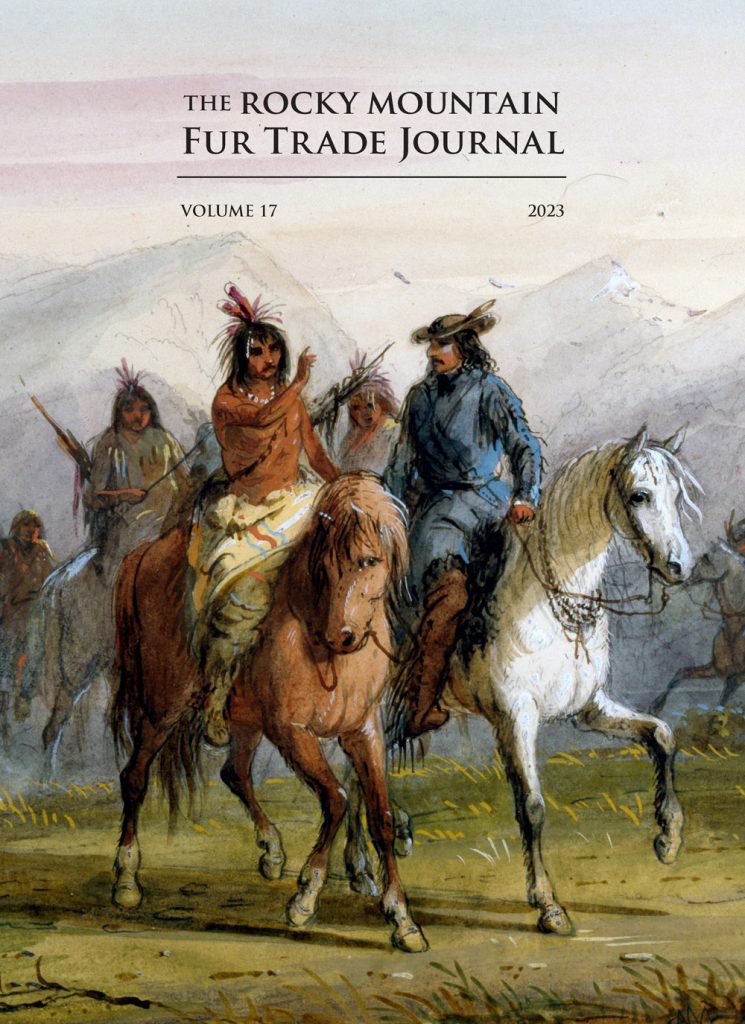 Purchase through online Trading Post

Killing Competition with Kindness: Jedediah Smith, George Simpson, and the Aftermath of the Umpqua Massacre
By Tom Holloway
An in-depth look at how the Hudson's Bay Company dealt with the American, Jedediah Smith, following his losses on the Umpqua River in 1828. Tom H. Holloway, an intrepid and detailed researcher, examines arrangements George Simpson made with Smith, making it clear that HBC was more than generous with the Smith, Jackson & Sublette Fur Company's plight. Holloway provides a fresh and insightful examination of how HBC's highest ranking officer on the North American continent balanced the business needs of his company with the humanitarian, yet practical demands of Jedediah Smith.
Jedediah Smith's Search for Melish's River
By Sheri Wysong
Looking back at the adventures leading up to Jedediah Smith's devastating 1828 confrontation in Oregon country, Sheri Wysong presents a number of queries into what motivated Smith to begin with. Wysong poses questions that most historian have, at best, overlooked, or at worst, chosen to ignore. Plenty of historians have talked about what Smith accomplished, but few have offered even weak speculation as to why he did what he did. Through shrewd suppositions, Wysong challenges readers with a new analysis of the choices and actions Smith made, forcing us to re-examine what we thought we knew about the alleged genuineness of this so highly thought of frontiersman. And, Wysong offers reasons that have historical significance to the early history of the Rocky Mountain West.
Mountain Men and Shoshone: Two Cultures Intersect During the Fur Trade
By Jim Hardee
Interactions between mountaineers and indigenous people during the fur trade often made the difference between success and failure for trappers in the new and often harsh environment of the Rocky Mountains. One particular Nation is frequently referenced in the journals of these men in the field – the Shoshone. Interim editor Jim Hardee examines period diaries and writings of trappers to investigate ways in which the values and customs of these two disparate groups overlapped. This article shows that, at least from the mountain man's point of view, both societies seem to have found mutual benefits from working together.
Ambush in Coriacan Defile: Unlocking the Secrets of a Fur Trade Mystery
By George Capps
George Capps has written several outstanding papers for The Rocky Mountain Fur Trade Journal and his current contribution is no exception. Capps looks into the stories, both real and imagined, surrounding a murder in today's O'Keefe Canyon, outside of Missoula, Montana. The methodical attention to detail that Capps provides makes it certain that the original name of that canyon, Coriacan Defile, is firmly rooted in an event that occurred during the rendezvous era. He goes on to show how that event ties not only to the Polynesian history of the fur trade but to the role Aleutians played, as well. Capps spins this multi-cultural tale of ambush into a wonderful story of global interaction in the Pacific Northwest.
"Destroying the Pious Monster": The Collapse of the US Indian Factory System
By James C. Auld
James C. Auld, a name familiar to regular readers of the Journal, looks at the role Ramsay Crooks played in the demise of the US government's Indian factory system. His article explains how and why the system developed, looks at its pros and cons, then describes Crooks' involvement in putting an end to what was essentially a government monopoly so that private enterprise could advance. For readers unfamiliar with the factory system, this article will make you want to know more about the pre-rendezvous machinations of the government's control of the Indian trade.