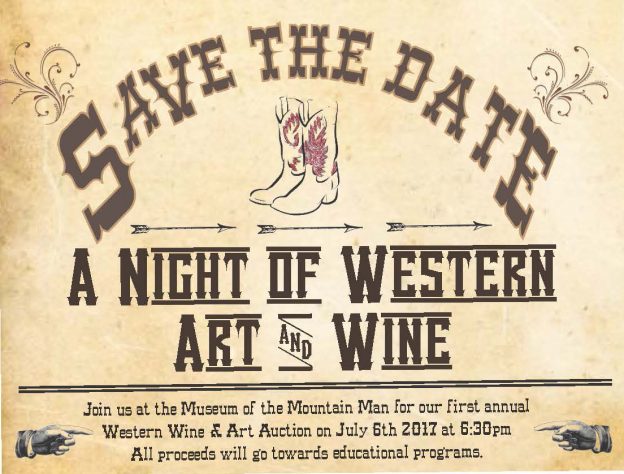 Join us for our first annual Western Wine & Art Auction!
First Annual Western Art & Wine Auction
Thursday, July 6, 2017 6:30 pm
Museum of the Mountain Man
Pinedale, Wyoming
Auctioneer: Dave Stephens
Event Organizer: Sandy Smith
All artwork has been donated and all proceeds will be used to help support educational programs and publications at the Museum of the Mountain Man / Sublette County Historical Society.
Your support is very much appreciated!
Check out our Western Art & Wine Catalog to see the artwork and wine that will be auctioned at the event!
In person Bids – Bidders can register at the auction. All sales are final the night of the auction in "as is" condition and must be paid for and taken the night of the auction unless otherwise arranged.
Absentee Bids – If you are unable to attend the auction, you may leave an absentee bid. This is a confidential, written maximum price for the lot or lots in which you are interested. The highest absentee bid on each lot will be the starting bid at the live auction. Absentee bids must be received by noon on July 6, 2017. Register for the auction and submit bids by calling 307-367-4101 or emailing artauction@mmmuseum.com and provide name, address, phone and email. Winning absentee bidders will be contacted by July 10th, 2017 and must provide payment within 5 days of being contacted.
Shipping – Shipping can be arranged for an additional charge.
Terms & Conditions – Cash, bankable check, and credit cards accepted. FULL payment due and payable at the time of sale. All items must be removed from sale site the day of sale unless other arrangements are made. We reserve the right to add or delete items, all items are subject to change. Announcements at the sale take precedence over printed material. Be sure to pre-inspect. All determinations are up to the bidder/buyer. Your bid is a legally binding contract.
ALL SALES ARE FINAL