$24.95
Hope Maintains Her Throne
The Western Expeditions of Nathanial J. Wyeth
Volume Two 1834 – 1836
Description
Jim Hardee's latest volume of Nathaniel Wyeth's time in the fur trade.
Hope Maintains Her Throne
The Western Expeditions of Nathaniel J. Wyeth
Volume Two 1834-1836
"Great biography, good business history, and a much-needed addition to fur trade-era documentary libraries." – William R. Swagerty, University of the Pacific
On his first expedition to the Pacific Northwest, Nathaniel Jarvis Wyeth learned enough about the region to develop an optimistic plan of action for his second adventure that he hoped would earn him a fortune. But grand visions, even backed by experience, planning, and committed investors, do not always produce the desired outcome.
Volume Two examines how he put into effect this hard earned knowledge on his second journey west, including his dismay at being beaten to the 1834 rendezvous by William Sublette's supply caravan, and ultimately establishing Fort Hall on the Snake River. This trading post was destined to play an integral role in America's western expansion.
Hardee constructs a panoramic view of the Boston ice merchant's world, filled with fascinating details about the people, the challenges, and the economic conditions that conspired for and against Wyeth's dream. Hardee brings new information and insights to a story of driving ambition and creativity most historians think they know well.
Published by Sublette County Historical Society & Museum of the Mountain Man
ISBN: 978-0-9973143-3-5
Hardback with full color dustjacket, 500 pages, black and white illustrations, 6×9 inches.
Table of Contents:
1. A New Business Plan
2. The Journey Begins
3. The Trail from Independence
4. 1834 Rendezvous at Ham's Fork
5. Fort Hall: a Stone in the Garden
6. The Next Stage of the Plan
7. The Trials of Columbia River Business
8. Heading for the Interior
9. The Unraveling Continues
10. Changing Strategies
11. Hope Fades and Business Folds
12. After the Fur Trade
Epilogue
Appendix
Endnotes
Bibliography
Index
Order the 2 volumes together to get a discount!!!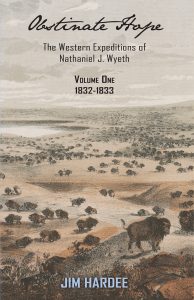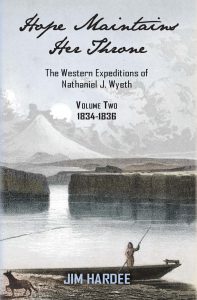 Click HERE to order the two volumes for a discounted price of $44.95!
Additional information
| | |
| --- | --- |
| Dimensions | 9 × 6 × 1.25 in |